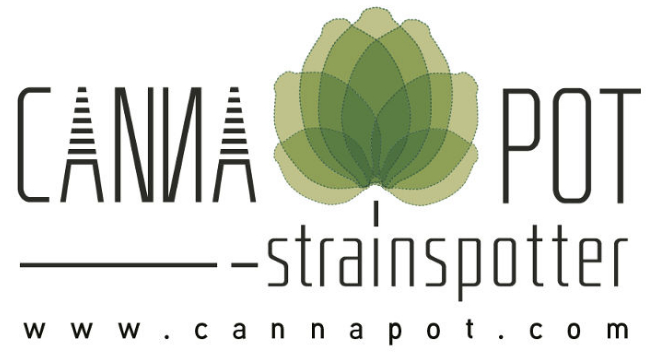 Marijuana seeds search - find your cannabis strain
The 'Strainspotter' is a fine APP from Cannapot - every cannabis grower and collector can find the desired cannabis strain very quickly and easy. The APP works on both iOS and Android systems - this means, that the Strainspotter runs quickly and easily on both Apple and Android platforms.
How does the strainspotter work, where can I download it?
First you need to download the APP:

Android version for smartphone
iOS version for iPhone
the APP is absolutely free for all visitors or customers of Cannapot and for everyone!
Looking for cannabis seeds – how does it work?
After you have installed the APP on your system, everything is self-explanatory - but here is a short summary of what the respective search options do. Open the Strainspotter APP and you're good to go...
Flowering days
Here you can enter the flowering days of the marijuana varieties, this is done either with the slider or by hand, you can set the period from zero to two hundred days...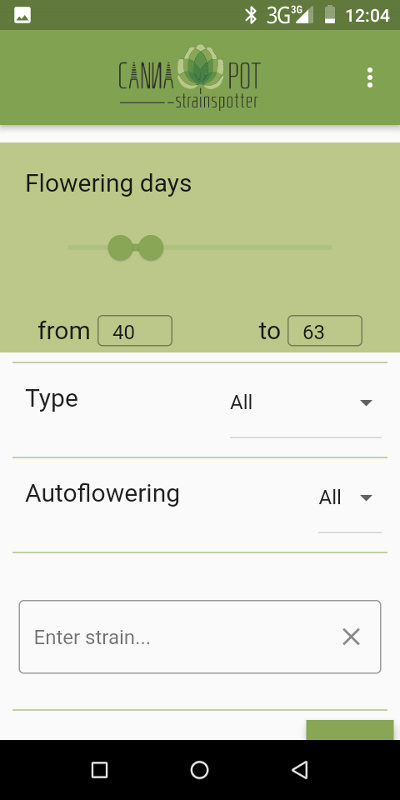 Type (CBD - Indicas - Sativas - Indica & Sativa - Ruderalis)
Here you define which type of strains you want to search for - you have the following options, just choose:
a.) All: absolutely all types of cannabis strains are taken into account in the search (CBD varieties, indicas, sativas, indicas & sativas, autostrains or ruderalis varieties)
b.) CBD: all hemp varieties with a lot of cannabidiol
c.) Indica: pure indica varieties but also mostly indicas are displayed with this option
d.) Sativa: here you can choose between pure and / or mostly sativastrains
e.) Indica & Sativa: if you are looking for beautiful indica / sativa hybrids, then choose this option
f.) Ruderalis: As the name suggests, if you are looking for automatic marijuana strains, choose Ruderalis, these automatic strains will start to flower after two, three, or four weeks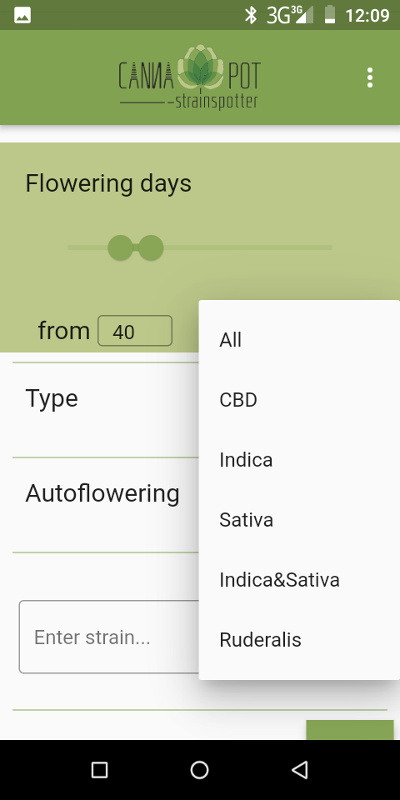 Autoflowering
We have added an extra search field for autoflowering varieties, there are also automatically flowering sativa and indica varieties out there on the market, so this option is absolutely necessary. Here you define whether or not you want to have automatic flowering marijuana varieties...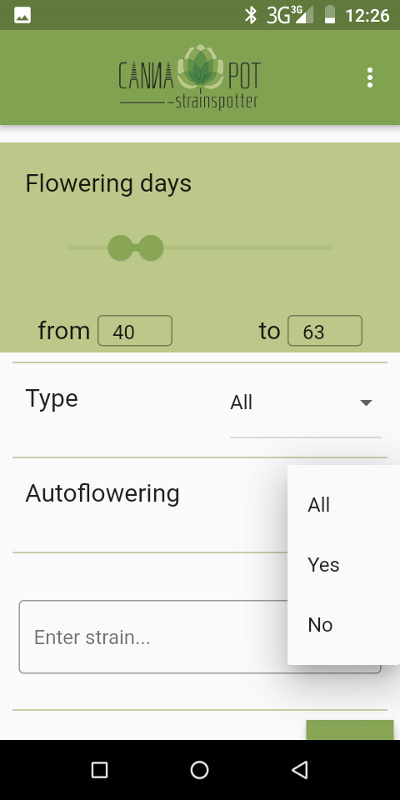 Enter strain
As with all search options, this one is also self-explanatory - if you are looking for a specific marijuana strain, insert the name here...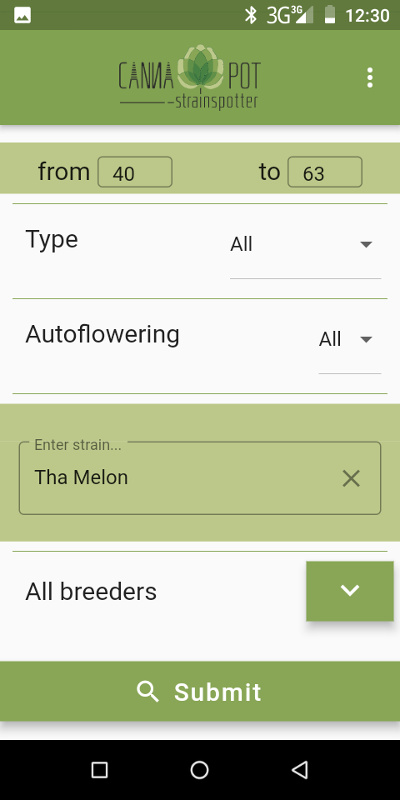 All Breeders
Here you can also specify the manufacturer(s) - either you can display the search results for all breeders, or you can choose your preferred breeder of your favorite marijuana seeds! Please note: there are many varieties (e.g. White Widow, Jack Herer, Original Glue and many more) on the market that are produced by different manufacturers - here you can specify the manufacturer of your choice and refine your search!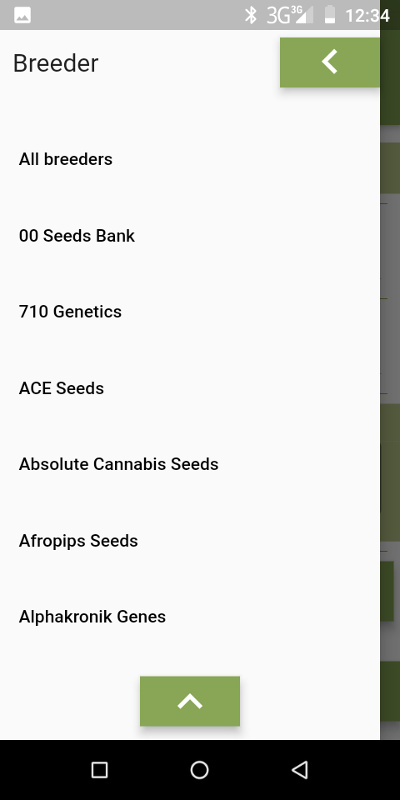 Submit
When you have completed your setting(s), you can continue with "Submit" - simply click on the "Submit" button and you will get the final results!
Hint: you can also adjust the search here (see the next picture 'Sort') - you get these options by tapping the three dots in the top right next to the magnifying glass!
After that, please click on the variety of your choice, this should be the strain you were searching for - here you will get very precise and detailed informations.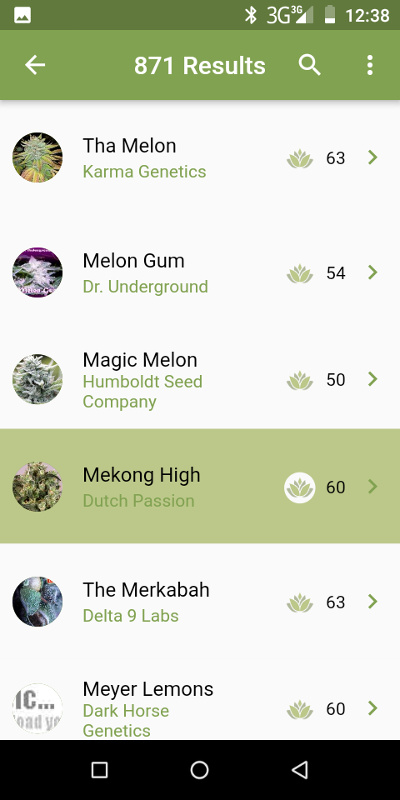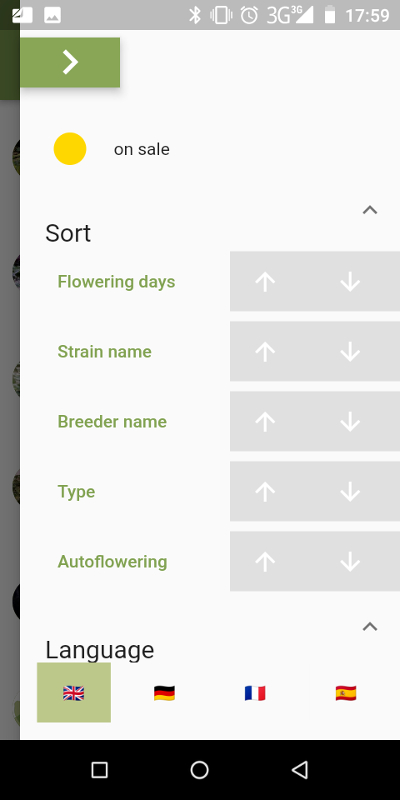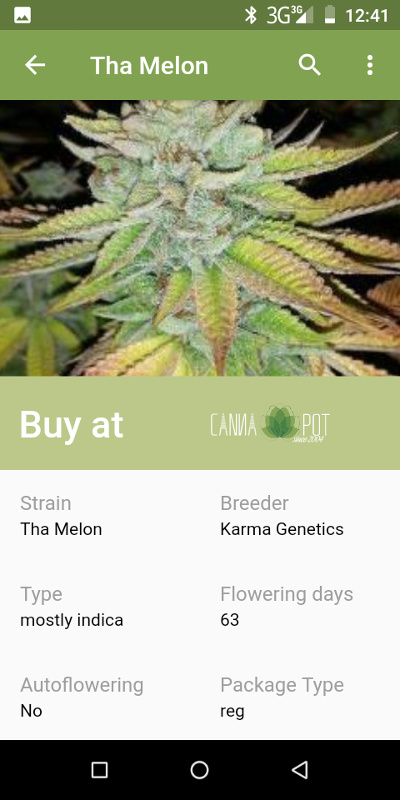 We hope you like our Strainspotter APP - have fun searching for your personal cannabis seeds!
Please note: the Strainspotter APP is a pure information APP: you can search for, and certainly find cannabis and hemp seeds according to your own needs, the APP shows you a lot of different informations on various marijuana varieties from many breeders around the world!
We offer you a fast and discreet shipping, we always send the order to your delivery address in the original manufacturer's packaging (exception 'stealth'). No matter whether we should send to Germany, Switzerland, Liechtenstein, Austria, United Kingdom or to any country on our planet, no problem ... we ship worldwide! On request, we also can deliver the cannabis seeds outside of the original packaging very anonymously. The anonymous shipping is known as 'stealth' and it is very popular and safe.
You can order the seeds from us without hesitation by adding the products to the shopping cart, after that, complete the order and pay the total amount. We offer you various types of payments such as Mastercard, Visa, bank transfer, cash in a letter or Bitcoins. If you wish to have a different form of payment, just write us an E-Mail. Please note: Paypal is not possible, there is absolutely no way to pay your order in this way!