Joker - Paysafecard
You can pay your order with the Jokercard at our shop, if you have the possibility in your country. Here are some informations how you can use this nice type of card. The JokerMastercard is a prepaid-creditcard, if you have enough money on it you can use it like a normal Mastercard.

More details about the Jokercard can be found here:

JOKERKARTENWELT.NOVUMBANKGROUP.COM

But if you want a very secure way of payment, the Jokercard offers a nice solution as well. You do not need to buy a complete package of the Jokercard if you find a store where you can buy the recharge codes. There exist three different amounts of recharge codes: EUR 25,-- / EUR 50,-- / EUR 100,-- ... and they look like this: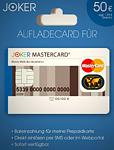 So just order at our shop and mail us the recharge-code(s), we will use it/them and then we send your order. This is a very discreet way to pay your order but please note: you will not get back money if you pay to much, that is the only disadvantage.

If you like to pay your seedorder in this way, just order at our shop and mail us (for example use our contact form) your ordernumber and include the recharge-codes...