Amnesia es una de las mejores, si no la mejor variedad de cannabis que existe - desde que las semillas de cannabis Amnesia vieron la luz por primera vez en 1996, hay pocas variedades que puedan ofrecer mejor calidad que esta. Para Amnesia, una Sativa OLD School extremadamente fuerte (posiblemente una Neville's Haze especial y muy fuerte) fue cruzada con una Indica fantástica y muy excepcional y cualquiera que conozca esta variedad sabe lo que significa alta calidad.
La planta es relativamente fácil de cultivar, es la variedad perfecta para el cultivador de interior, pero en exterior necesitarás vivir en una zona más cálida para que Amnesia madure completamente. Sin embargo, si tienes un invernadero con buena ventilación, te sorprenderá lo grande que puede crecer esta cepa.
El aroma de Amnesia es absolutamente excepcional y único, insuperable en calidad y diferente a cualquier otra variedad de marihuana, Amnesia es definitivamente una de las mejores variedades de cannabis del mundo. Muchos fabricantes y criadores ofrecen esta variedad feminizada como "Amnesia Haze", ¡pero el envase original de Hy-Pro sólo está etiquetado como "Amnesia"!
Atención: las semillas regulares son las semillas de cannabis Amnesia originales y genuinas de HyPro (desde 2013 la empresa ya no se llama HyPro sino SuperStrains), que son extremadamente raras. El paquete contiene diez semillas de cannabis regulares que se pueden utilizar para diversos proyectos de cría o para criadores. Las semillas feminizadas ya no se venden bajo la etiqueta HyPro sino bajo SuperStrains, que es la misma empresa que cambió de nombre en 2013, es la misma genética, pero feminizada y no regular....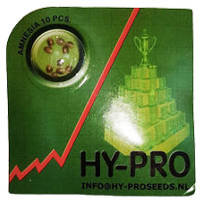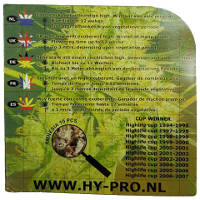 El Seedbank SuperStrains (como ya te puedes imaginar con este nombre) se ha propuesto producir sólo las mejores semillas de cannabis y llevarlas al mercado. La gama de productos incluye variedades de cannabis como Amnesia, Enemy of the State, 7th Wave o la apreciada El Cucaracha. Todas las variedades de SuperStrains son de alta calidad y muy fáciles de cultivar. Estas semillas de cannabis también tienen un potencial medicinal muy alto y, por lo tanto, son excelentes para fines medicinales.
Modelo: SUP01
Fabricado por: SuperStrains