Amnesia ist eine der besten, wenn nicht sogar die absolut beste Cannabissorte schlecht hin – seit Amnesia Hanfsamen im Jahre 1996 das Licht der Welt erblickten, gibt es kaum eine Sorte die eine bessere Qualität bieten kann, wie diese. Für Amnesia wurde eine extrem starke OLD-School Sativa (möglicherweise eine spezielle und sehr starke Neville's Haze) mit einer fantastischen und sehr außergewöhnlichen Indica gekreuzt und jeder der diese Sorte kennt, weiß was hochwertige Qualität bedeutet.

Die Pflanze ist relativ einfach zu züchten, sie ist die perfekte Sorte für den Indoorgärtner, outdoors mußt du aber schon in einer wärmeren Gegend leben, um Amnesia vollständig reifen lassen zu können. Sofern du allerdings ein Gewächshaus mit einer guten Ventilation hast, dann wirst du erstaunt sein, wie groß diese Hanfsorte wachsen kann.

Der Duft von Amnesia ist absolut außergewöhnlich und einzigartig, qualitativ nicht zu schlagen und mit keiner anderen Marihuanasorte zu vergleichen, Amnesia ist definitiv eine der besten Cannabissorten der Welt. Viele Hersteller und Nachzüchter bieten diese Sorte feminisiert als 'Amnesia Haze' an, aber die ursprüngliche Hy-Pro Verpackung ist nur als "Amnesia" beschriftet!

Achtung: es handelt sich bei den regulären Seeds um die orignalen, echten Hanfsamen von Amnesia der Firma HyPro (seit 2013 heißt die Firma nicht mehr HyPro sondern SuperStrains) die wirklich extrem rar sind. In der Packung sind zehn reguläre Hanfsamen die man für diverse Zuchtprojekte oder für Keeper verwenden kann! Die feminisierten Samen werden nicht mehr unter dem Label HyPro sondern unter SuperStrains verkauft, das ist die selbe Firma die sich 2013 umbenannt hat, es handelt sich um die selbe Genetik, allerdings feminisiert und nicht regulär...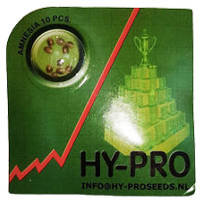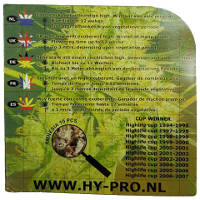 Die Seedbank SuperStrains hat (wie man sich bei dieser Bezeichnung natürlich bereits vorstellen kann) es sich zum Ziel gemacht, nur die besten Hanfsamen zu produzieren und diese auf den Markt zu bringen. Die Produktpalette umfasst Hanfsorten wie Amnesia, Enemy of the State, 7th Wave oder die heißgeliebte El Cucaracha. Alle Sorten aus dem Hause SuperStrains sind qualitativ hochwertig und sie lassen sich sehr einfach growen. Diese Cannabissamen besitzen auch überaus hohes medizinisches Potential und daher sind sie auch hervorragend für medizinische Zwecke geeignet.
Artikelnummer: SUP01
Hergestellt von: SuperStrains