Amnesia est l'une des meilleures, si ce n'est la meilleure variété de cannabis - depuis que les graines de cannabis Amnesia ont vu le jour en 1996, il n'y a guère de variété qui puisse offrir une meilleure qualité que celle-ci. Pour Amnesia, une Sativa OLD-School extrêmement puissante (peut-être une Neville's Haze spéciale et très puissante) a été croisée avec une Indica fantastique et très exceptionnelle, et tous ceux qui connaissent cette variété savent ce que signifie une qualité supérieure.
La plante est relativement facile à cultiver, c'est la variété parfaite pour les cultivateurs d'intérieur, mais à l'extérieur, tu devras vivre dans une région plus chaude pour qu'Amnesia puisse mûrir complètement. Cependant, si tu as une serre avec une bonne ventilation, tu seras surpris de voir à quel point cette variété de cannabis peut pousser.
L'odeur d'Amnesia est absolument extraordinaire et unique, d'une qualité inégalée et ne peut être comparée à aucune autre variété de marijuana, Amnesia est définitivement l'une des meilleures variétés de cannabis au monde. De nombreux producteurs et cultivateurs proposent cette variété féminisée sous le nom de 'Amnesia Haze', mais l'emballage original Hy-Pro est uniquement étiqueté "Amnesia" !
Attention : les graines régulières sont les vraies graines de cannabis originales d'Amnesia de la société HyPro (depuis 2013, la société ne s'appelle plus HyPro mais SuperStrains) qui sont vraiment extrêmement rares. Le paquet contient dix graines de chanvre régulières que l'on peut utiliser pour divers projets de culture ou pour les keepers ! Les graines féminisées ne sont plus vendues sous le label HyPro mais sous le label SuperStrains, c'est la même entreprise qui a changé de nom en 2013, il s'agit de la même génétique, mais féminisée et non régulière...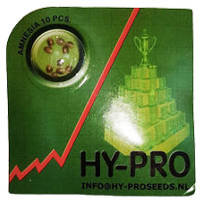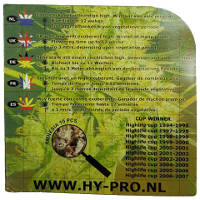 La Seedbank SuperStrains s'est fixé pour objectif (comme on peut bien sûr déjà l'imaginer avec cette appellation) de ne produire que les meilleures graines de chanvre et de les mettre sur le marché. La gamme de produits comprend des variétés de chanvre comme Amnesia, Enemy of the State, 7th Wave ou la très appréciée El Cucaracha. Toutes les variétés de la maison SuperStrains sont de haute qualité et très faciles à cultiver. Ces graines de cannabis ont également un potentiel médicinal très élevé et sont donc parfaitement adaptées à un usage médical.
Numéro d´article: SUP01
Fabriqué par: SuperStrains
Les clients qui ont acheté cet article ont également acheté ces articles...