CBG Kush is the first pure CBG strain from Nativ Canna with an excellent THC:CBG ratio of around 1:100. While the total THC content (THC+THCa) usually remains below 0.1% THC, the plants reach a CBG content of up to 10%. Since strict THC limits apply in many countries, it is possible with this very low-THC strain to grow cannabis within a legal framework - for private and commercial growers.
CBG Kush is an indica dominant strain that produces smaller to medium tall and very bushy plants with strong side branches and compact buds. The strain has a slight autoflowering tendency in its genes, making it an ideal outdoor strain. Under ideal circumstances, plants will be mature as early as mid-September, so there's less to worry about cold snaps and mold problems. The flowers smell in a pleasant spectrum from sweetish orange to spicy notes. CBG Kush is not only an ideal strain for medical purposes, but also ideal for legal cultivation in many countries due to its genetically low THC content.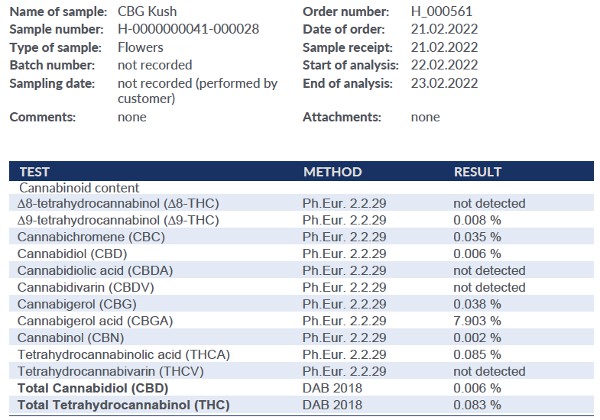 Nativ Canna is a company based in Austria with the focus on the production and distribution of legal hemp raw materials and hemp products. The company mainly offers CBD rich seed varieties, most of them are included in the European Unions common catalog of varieties. These hempstrains are generally also known as industrial hemp that are often grown by farmers. They offer original and certified seeds from the official manufacturers and no reproduction, which is otherwise only available in large quantities and mostly only for big farmers. This gives the cannabisseed-collector the opportunity to get these CBD rich seeds for collecting that are otherwise difficult to obtain in reasonable quantities.
Model: NTV10
Manufactured by: NativCanna