Bud Spenca CBG is a great outdoor strain that has a lot of CBG to offer - the flowers are very compact and they smell deliciously sweet, like some earth and musk. These CBG flowers are naturally, gently dried and carefully processed. You can see immediately that it is a really high quality product. Since Bud Spenca CBG offers less than 0.2% THC, it is completely legal in almost all countries (such as Germany or France).
CBG: 9%
THC: < 0,2%
FLAVOUR: pleasantly earthy sweet, musk
Certified EU hemp registered in the EU variety catalog - the name "Bud Spenca CBG" is only used for product marketing...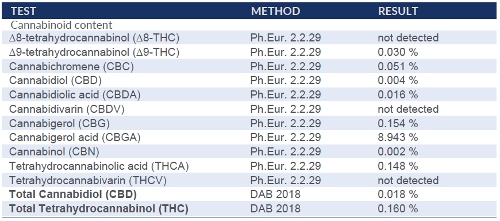 Buy high-quality CBD flowers legally online
In addition to the great feminized and regular cannabis seeds, we also offer fantastic CBD flowers for sale created by manufacturer Chilled-CBD. The flowers are obtained exclusively from certified hemp varieties approved in the EU - the THC content of these varieties is always below 0.3% and in some below 0.2%. In Austria, all flowers are allowed up to a maximum of 0.3% THC and in many other countries (such as Germany or France) the maximum value of tetrahydrocannabinol is 0.2%. This ensures that we are allowed to sell most Chilled-CBD products throughout the EU. The flowers are produced absolutely naturally, the manufacturer does not use any chemicals, dispenses with the use of pesticides, herbicides and only uses organic fertilizers - and of course no chemical additives are used during processing and harvesting.
Order CBD cannabis flowers online at Cannapot
With us you will find CBD and CBG flowers with excellent values and wonderful tastes, each individual variety impresses with its fantastic quality and great ingredients, whereby the content of tetrahydrocannabinol of 0.3% permitted by law in Austria is never exceeded. The flowers are always analyzed and tested by the manufacturer in the laboratory before sale, so every customer can be sure that they can always order a legal product of the best quality online.
CBD marijuana flowers - different varieties at Cannapot
We offer a great selection of different CBD flowers, all of which differ from each other in terms of their cannabidiol content, cannabigerol content, aroma, manufacturing process and the composition of other plant active ingredients such as terpenes. Each individual strain offers very special scents, many flowers have smells and tastes of world-famous cannabis strains - the range includes, for example, Jack Herer, Amnesia Haze, Cookies, Limoncello or even Banana Kush!
Legal production and legal sale
All Chilled-CBD products are produced completely legally in Austria or Switzerland, and according to the manufacturer there will also be a production in Germany in the near future. As mentioned before, all flowers come from certified hemp strains approved in the European Union. The CBD flowers are obtained exclusively from the real plant "Canabis Sativa", the permitted value of tetrahydrocannabinol is analyzed very precisely by laboratory analyzes so that the legally permitted value is never exceeded - so the customer can always be sure of purchasing a completely legal product.
Model: CHLCBD07
Manufactured by: Chilled-CBD