Amnesia F2 from Pure Regular Seeds is an excellent strain based on the original highend-Sativa created by Hypro-Seeds. Thanks to careful selection, the grower can look forward to what is arguably the strongest of all Amnesia strains on the market - these regular seeds produce plants that grow extremely well. Amnesia F2 is very easy to grow and provides the perfect results even for beginners.
Pure Regular Seeds spared no effort or expense to bring this fantastic F2 to the market in regular form. The most beautiful and potent guy was crossed with the most beautiful lady of the family from the original and sinfully expensive regular Amnesia seeds.
The smell is really unique and cannot be compared to any other cannabis strain - sweet liquorice combined with lemons and limes will make the mouth water of any lover of the best genetics. Amnesia is a fantastic mostly Sativa with an unparalleled addiction - the aroma is unique and combines the wonderful indicagenetics of the Afghan with the soaring sativa Nevilles Haze!
With these regular cannabis seeds the gardener gets one of the absolutely best strains in the world which is an absolute must for cannabis connoisseurs, this Sativa is still in a league of its own and it has not won many cannabis cups in the last 25 years for nothing. Amnesia F2 is an absolute must for all fans of regular cannabis seeds who are looking for the best of the best!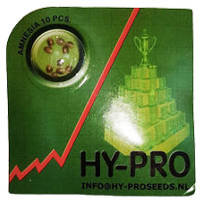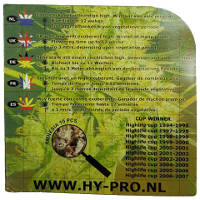 Pure Regular Seeds is a new manufacturer that is taking the hearts of all growers of regular cannabis seeds by storm! The breeder focuses on the production of high quality regular marijuana seeds that bring only the best plants for indoor and outdoor gardeners. The flagship of the manufacturer is definitely the excellent Amnesia F2, which was created from the original regular seeds of the manufacturer Hy-Pro. In addition to this fantastic mostly Sativa, Pure Regular Seeds also offers other, very high-quality genetics for all areas, such as the Amnebula variety which is a fab cross of the great Nebula and amazing Amnesia.
Model: PRS01
Manufactured by: Pure Regular Seeds